Инклюзивное образование лиц с ограниченными возможностями здоровья – одна из основных тенденций развития современно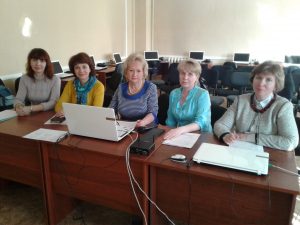 й образовательной системы.  Профессиональная компетентность педагогов, обеспечивающих обучение, воспитание и развитие детей с ограниченными возможностями здоровья является важным условием осуществления инклюзивного образования в школе в рамках реализации ФГОС.
20 марта 2019 года в МАОУ ДПО ЦИТ для заместителей руководителей по УВР и педагогов,  работающих с учащимися с ограниченными возможностями, прошла городская видеоконференция  «Навстречу друг другу». Тема конференции была посвящена взаимодействию  педагогов и  психологов по обучению детей с ограниченными возможностями здоровья.
Мероприятие проводилось в целях:
совершенствования профессионального мастерства педагогов, работающих в специальных (коррекционных) и инклюзивных классах;
представления успешного опыта работы в этом направлении;
предоставления возможности получить квалифицированные рекомендации специалистов по работе с детьми с ОВЗ.
На видеоконференции выступали:
Елизарова Н.В., методист МАОУ ДПО ЦИТ,
Гусева Т.Н., председатель ПМПК ГБОУ «ППЦ»,
Горунова И.М.,  методист, педагог-психолог ГБОУ ЦПМС«Личность»,
Лисицына Е.А., методист, педагог-психолог ГБОУ ЦПМС «Личность»,
Морозова Ю.В., педагог-психолог МБУ «Школа № 69»,
Боглачева Н.А., заместитель директора по УВР «Школа № 91»,
Беляева О.В., заместитель председателя СМО педагогов, реализующих адаптированные образовательные программы, учитель начальных классов, психолог МБУ «Школа № 34».
Всего в видеоконференции приняло участие 450 человек. Полная запись видеоконференции будет опубликована на сайте МАОУ ДПО ЦИТ , все презентации — на сайте СМО педагогов, реализующих адаптированные образовательные программы.
While there are many varieties of about their word papers, a great example would be a medical expression.